Scotch pie line replaces previous Comas machine from EPP which has been in use for 20 years
Bells Food Group Ltd has bolstered its bustling Scotch pie manufacturing process by investing in a new Comas Scotch Pie Line, supplied by EPP.
The thriving third-generation family baker, established in 1931 in Shotts, Lanarkshire, has 200 staff working in its two bakeries and one distribution depot. The traditional wholesale baker produces approximately 35 million pies per year, primarily for its supermarket clientele. The group dominates the fresh pie sector in Scotland, with a 58% market share, ahead of its nearest competitor of around 12%. It also has an 80% market share of the Scotch pie marketplace, with the Scottish food icon made using hot water pastry and a beef filling with a blend of traditional spices.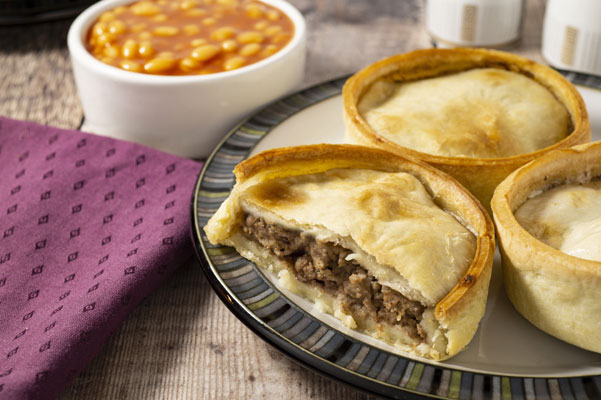 Bells' original Comas Pie Line – installed 20 years ago by bakery and food production equipment specialist, European Process Plant Ltd (EPP) – still operates Monday to Friday from 6am to 1am the following day and can manufacture 370,000 Scotch pies per week.  Having experienced enormous success with its largescale production of the unique savoury, the machine is now being retired and replaced with a new machine, again through EPP and Comas, to ensure continued performance.
"The original machine has served us fantastically well – it has been hugely efficient, very robust and very reliable," says Ronnie Miles, Managing Director of Bells Food Group Ltd. "It has worked incredibly hard in its lifetime, and the only reason we are changing it is purely because it has reached an end of life cycle, and it has done its job for us. During that time, EPP and Comas have both supported us brilliantly for all those years. We know the people; we know the standards and the level of professionalism that they offer. It is a big investment for us, but it was an easy decision for us to make. COVID-19 has given us the opportunity for a build window, so the machine is being built now, but we won't commission and install until April. We hope that this machine will last us another 20 years. It's a fantastic machine and we are big fans of Comas."
Bells currently has four Comas machines, with Comas One being the model due for renewal. EPP is the exclusive distributor for Comas in the UK and Ireland. The new replacement line is largely unchanged from the previous model. "Between EPP and Bells, we came up with what are some very subtle changes that we think will make small improvements," adds Ronnie. "It's primarily a direct replacement, but with a few tweaks such as being easier to clean and maintain, with a slightly smaller footprint. We're really excited about it – our ethos at Bells is to invest in the business, invest in the people and also give our shareholders a return. We're continually investing in new technology and innovation, and this is one of the biggest projects of ours over the past few years. We have managed to take these traditional values and recipes, and design equipment to manufacture to the same quality standards but at volume."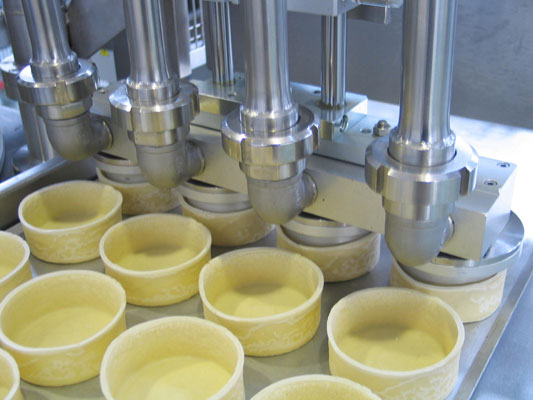 Back at the turn of the millennium, the team at Bells worked with EPP and Comas to establish the new setup for the iconic Scotch pie, which modified existing Comas designs – including its Tartomatic pie shell machine – to develop equipment enabling them to be produced at high quality on a large scale. "We were the pioneers of these particular machines, and we were the first creators in conjunction with Comas and EPP," says Ronnie, who has also served as President of the Scottish Bakers Association. "Since then, various companies have had them installed, but we came up with some of the original changes in design in conjunction with Comas. We are making pies today for delivery for tomorrow. They taste good, they're well priced, and thanks to EPP and Comas, we are able to manufacture them efficiently. We wouldn't sell 34 million pies per year if those statements weren't true."
The line forms a small pastry doughball, which is dropped into heated moulds. A heated press then stamps the pie shell to partially cook the pastry. Robotics arms then pick up the shells, place it on a conveyor and pass it under a depositor, which adds the filling. The pies then travel along the belt where a pastry lid is placed on top of the pie. A glaze is added and then the pies pass through a retractor which gently sweeps away the pies onto a travelling oven, where they are heated and transported to the wrapping department.
"It's a real pleasure for EPP to be involved with such a forward-thinking and successful company, and there is no higher praise for us than to see satisfied customers coming back to us for repeat business 20 years later," says Ged McBride, Technical Sales Manager at EPP. "The Scotch pie has legendary status, and it is testament to Bells Food Group that they have managed to achieve the success that they have, all the while maintaining such high standards. We are proud to have played a small part in this process alongside our partner Comas. We look forward to working closely with the team at Bells Food Group and Comas and carrying out the installation in 2021."
Bells is the Number two Scottish Food Brand according to the Scottish Brand Footprint 2020, compiled by Kantar World Panel. The nation's proud iconic brands include Grahams Family Dairy (ranked #1), Tunnock's, Border Biscuits and Nairns among many in what is a vibrant and unique market. Despite most of its sales being made in Scotland, its strength has also made it the number two fresh pie brand across the whole of the UK, behind Pukka Pies. Bells also produces a range of other pies, including its traditional steak pie, as well as chicken curry, macaroni, steak and gravy, and – most recently – a vegan Scotch pie. Bells also supplies puff pastry, which it sells wholesale as well as to about 150 independent butchers and bakers in Scotland.