High quality food store gets high quality solution
Pioneer Foodstorein Carlisle opted for a premium bakery line solutionfor its flagshipfood hall in a brand-new site at Rosehill Estate.The turnkey solution provided by EPP – which included a MIWE oven, Koenigdivider, VMI mixer and MIWE retarder proofer – bolstered its bakery offering, allowing it to make high-quality bread products on-site for use across its extensive product range, with potential for future expansion and product development.
1878 is when Pioneer began life as a small retail outlet in Carlisle's Greenmarket, selling pots, pans and potted meats. The family owned company, still in the Jenkins family, is now in its fifth generation and employ 350 staff. The majority of its business has been predominantly within the food service in recent years (as Pioneer Foodservice) supplying the restaurant trade, but Pioneer has now looked to strengthen its proudretail roots, having built Pioneer Foodstore on the Rosehill Estate in Carlisle. The site replaced a previous old building across the road and formed an impressive retail hub for the Cumbrian business. The large food hall sells a wide range of groceries and products including its award-winning pies. It houses a renowned fresh meat section, fish counter, delicatessen, hot food counter and balcony coffee shop overlooking the store. The store also offers a Grab and Go product range, with ready-made sandwiches, rolls, snack boxesand moremoremaking use of the freshly made bread.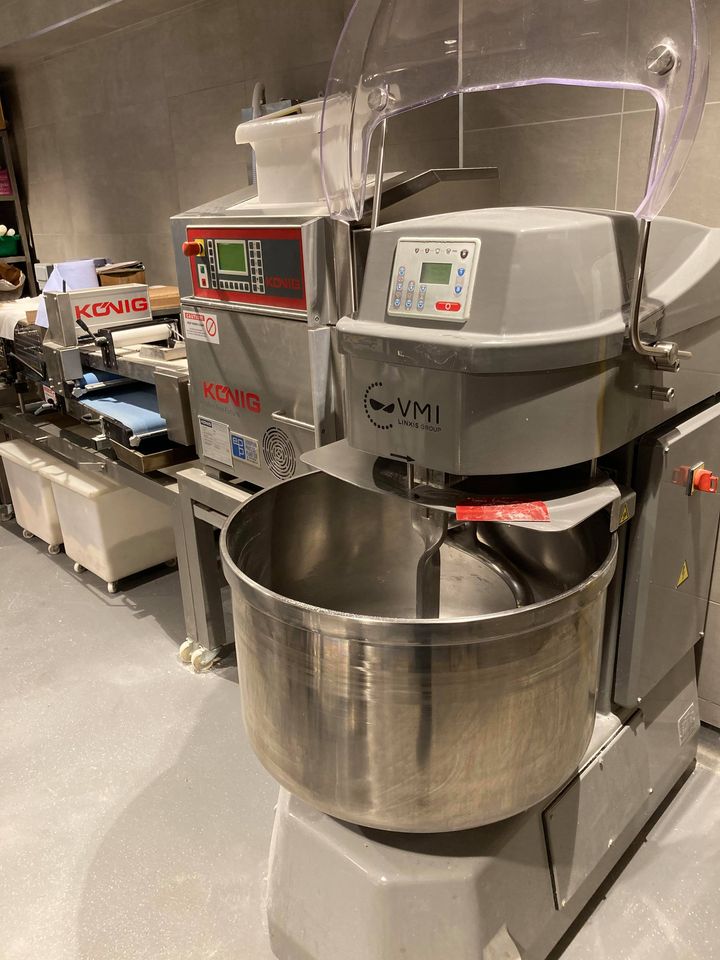 "Our ethos was for us to make our own ingredients, and then use them throughout the store across our range," says Douglas Middlemass, Retail Director at Pioneer Foodstore. "We had never made bread rolls before the new store, and we had an executive baker who was helping us with the setup. We were originally looking for one piece of equipment which was highly recommended to us – a Koenig Mini Rex divider. That was when we were introduced to EPP.The driving force after that was to set up a concept bakery and get all our equipment from one supplier, so that they could service and maintain it all more easily. We were also hoping to futureproof it by keeping everything streamlined in this way. We researched what we needed, took advice from other bakers, and went for EPP."
After careful planning, the equipment selected for the food hall was a Koenig Mini Rex Futura with forming station, VMI 80FX mixer, 4-deck MIWE Condo oven and MIWE GVA e+retarder proofer. The Pioneer team refers to it as a 'scratch bakery' because everything is made from scratch with no pre-mixes and several artisan bakers working on site.
"There was a lot of development work with EPP, they gave us good advice on what we needed and helped us with the planning.When the installation came, the guy came over from Germany to fit the MIWE GVA e+ retarder proofer, and there were no issues at all in the process.We had one or two small teething problems with the oven, but they have been quick to get out here to sort them, so we've had a good relationship. I'd have no hesitation in recommending EPP – we've been very happy with the standard of equipment supplied and the support from them, and I look forward to having a long relationship with them."
The retail store was fitted out with the help of HK Interiors, and EPP equipment was installed in March 2019. The store has 20 different lines, and produces several thousand bread rolls per week, with current equipment allowing the bakers to expand this greatly into further growth phases. Work has also begun on a sourdough product range.
"When we first started speaking with Pioneer in late 2016, they had an exciting vision of what they wanted," says Ged McBride, Area Sales Manager, EPP."To see this come to life three years later was very satisfying, and it was a pleasure to help them reach that end goal.Pioneer Food store is atop-qualityfood hall with outstanding products, andthey wanted bakery equipment to reflect this.We were able to support Pioneer through its equipment choice, and all the people at Pioneer were great people to work with as we worked to support them."
The retail arm has continued to perform well for Pioneer, even during the challenging year of 2020. "Being able to bake our own bread was a great tool to have when some supermarkets were running out of bread.  Bakers went on the nightshift and went into overdrive," smiles Douglas."The business has come through this period very well – the staff have been excellent, and we've built up a great relationship with the local community. The café had to close during the restrictions, but it is now back up and running with a slightly reduced capacity to ensure social distancing is fully in place. We've been able to deliver high quality food to people in a safe manner, and I believe that our reputation has grown because of that." Pioneer Food store also has two other smaller retail sites: Fisher Street, Carlisle (which has recently invested in a MIWE Gusto snack oven) and Harrington in West Cumbria.