European-style bakery in York thrives with equipment upgrade
Little Arras in York has invested in a MIWE Condo oven from EPP, saving time and cutting costs at the city centre artisan bakery. The retail bakery has continued to serve the community with freshly baked bread during a challenging year, helped by its new oven which has expanded baking capacity.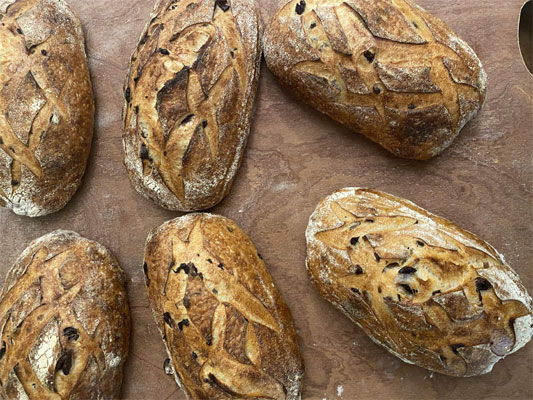 Having experienced a busy opening period after opening in March 2020, Adam Humphrey, owner of Little Arras Bakery, sought advice from former colleagues about a new oven investment to boost efficiency to keep up with demand. "We had a little oven from another manufacturer which worked well for us, but it rapidly became obvious that it wasn't going to be big enough for us in the bakery; it just couldn't deliver the volume we needed," says Adam. "We were looking for something that would fit in the small space we had, and that was going to give us the most efficient use of that space. If we still had the little oven we had previously, our bake for a Saturday would take up to 8-10 hours. A baker that we worked with had mentioned MIWE, so I asked another very accomplished baker that I taught in Australia. He again said that they were good ovens. We found that the MIWE Condo oven was one of the only ovens that would fit in the space, so it worked out, and we did a bit more research."
"I spoke to EPP who came down and gave us some advice, and we decided to go with the MIWE oven. It bakes the most fantastic bread and shaves four or five hours from our bake time on a busy day. It's a big bit of kit and a large investment for us, but we are hugely happy with it and I know it will last. It's efficient, it's smart, it does what it says it's going to do. It's just great. It's quite a soft bake and gives us some light and shade in terms of how the bread looks. The team that installed it were very helpful, efficient and very understanding. To manoeuvre an oven of that size into the small space was great. They did it without any fuss and were great people to work with."
The MIWE Condo Oven is energy-optimised and allows bakers to produce genuine stone-baked bread at scale, within a modest footprint. The investment has increased our oven capacity from four trays to 15.Little Arras uses the oven to bake about 300 loaves of bread per day, comprising a variety of baguettes, ciabatta rolls, sourdoughs, sandwich loaves and more. Adam and his junior baker start making bread between 3 o'clock and 4 o'clock each day and are usually finished by seven o'clock. "It's a big ask for an oven to get through, in a very small artisan bakery like ourselves. As we look to increase our capacity, it will increase with us, and will carry on doing what it is meant to do." Little Arras also invested in a GVAS retarder proofer at the same time, which allows the bakery to be more efficient on the pastry side of the business.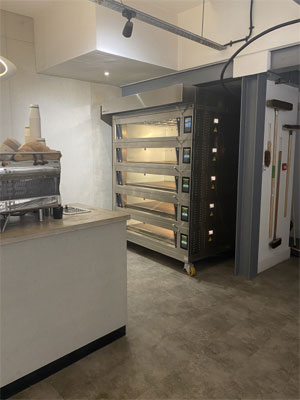 "During lockdown, people were queuing down the street for us, we were completely taken by surprise. We were in no way well-known in the baking world, but we've ended up with a bit of a cult following, and people have been so supportive in coming back to us throughout the year. We're primarily a European-style bakery, and it's important for me that the business is based on that premise– we bake it, we sell it, and we start again the next day. We use water, flour and salt – and occasionally yeast – and that's it. We have such a supportive group of people who have come to support us, through lockdown and beyond, so we're really happy."
"The MIWE Condo is the perfect deck oven for a quality artisan bakery like Little Arras," says Ged McBride, Area Sales Manager, EPP. "The oven is efficient with its heating power and has fine baking control. Logistically, it was a real challenge to get the equipment into the space, with loading restrictions on the road and narrow access into the building. It's great that Adam and his team are pleased with their high-quality investment, which I'm sure will prove to be a savvy choice."
The Arras brand started life down under in Walsh Bay, Australia in 2007 where Adam Humphrey and his wife Lovaine set up a restaurant. After moving the business to a downtown Sydney location in 2011, the pair turned a small adjacent hole-in-the-wall venue into Arras Too, a successful bakery. When they decided to move back to the UK to spend more time with family, they again set up a restaurant in York in 2017, where it bakes its own bread in a small oven. Adam spotted a small city centre premises on Goodramgate – one of York's many picturesque medieval streets – and asked his business partners if they would be interested in buying it and turning into a bakery, which became Little Arras. The bakery was setup as a sister business to the restaurant, baking bread to the same high standards as in its restaurant. It is the only bakery in the centre of York producing and baking breads on site, and it also supplies a select few wholesale clients.
With the restaurant side of the business suffering due to forced closures and restrictions, the bakery has provided respite for Adam, whose goal is to run a selection of successful complimentary businesses. "Financially it has saved us in many ways. We don't have lots of money tied up in stock or anything like that – we buy it, bake it and sell it. The money is able to be turned around quickly, so it has definitely benefitted us."
A perennially popular product has been the Yorkshire White, a stiff starter bread which uses Yorkshire organic flour. Baguettes have also been quick to sell out, as has a traditional white tin sandwich loaf made with Shipton Mill organic flour. Other more unusual creations proving to be popular have included a roasted spelt loaf and a Yorkshire semolina sourdough. "Because I'm a chef and not a baker, anything goes, and we're always keen to experiment," adds Adam.