European Process Plant Ltd (EPP) has installed a GEA Comas DLV depositor at White's Bakery to boost efficiency, save on labour costs and reduce wastage in its confectionary lines. The Barnsley bakery has grown its offering and now supplies about 85 schools with specialist individual portion cakes.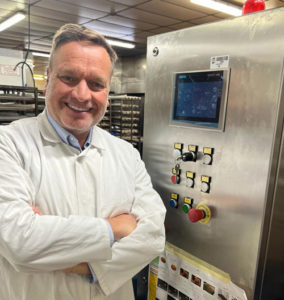 After being hit by the pandemic due to school, college and university closure swiping out many of its wholesale orders, White's set about looking to its future sustainability. Backed by the Barnsley Council COVID Recovery Scheme, the bakery established a business plan with Brook Corporate Developments which included assessing what machinery would be required to grow and achieve the necessary output. With a dated depositor placing considerable strain on labour requirements at the bakery, White's assessed several options to improve efficiencies.
Having trialled another depositor unsuccessfully, White's decided to pursue the Comas DLV. EPP arranged for White's to trial the machine at the GEA Comas factory in Italy, using its own recipes and ingredients for a thorough test."We saw the product going through the depositor in Italy, and immediately thought 'yes that's it'," says David White, managing director, White's Bakery."The other machine we tried wasn't as flexible, and the clean down would've been longer and more complicated. The GEA Comas machine gives us that flexibility for what we require."
The depositor is used to make flapjacks, brownies, chocolate chip cookies, muffins and madeira cakes. White's currently produces about 6,000 cookies per hour. The DLV model lobe depositor comprises a belt conveyor for trays, and a moving vertical head. Its individual lobe pump system allows the head to deposit a wide range of batters, fluids, dense and aerated mixes, and even batters containing small solid particles, such as chocolate.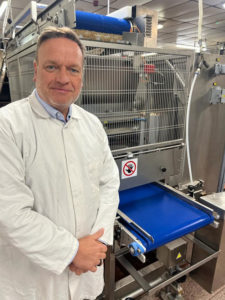 White's immediately noticed a significant difference to its productivity when it made flapjacks with the new depositor, allowing the bakery to make substantial labour savings. They found that what was taking five staff a total of five hours was now completed using two staff in just two hours. "With the Comas, the product now comes out of the mixing machine onto the incline conveyor belt," adds David. "The product drops into the hopper and it spreads it evenly onto the sheeting for us automatically. Also, we find the deposit weights are much more accurate, and we're getting less rejects at the wrapping stage. It's massively consistent." White's also found a similar labour saving when making cookies, which now requires a solitary worker to maintain pace with the oven, whereas previously three team members were required for the same output.
"The depositor will massively increase our capacity with fewer people required at the same time. The oven is our current limiting factor, and the depositor allows us to go a lot faster than we currently are doing, so it gives us that room for growth going forward. We are looking to move to another site and install another oven which would allow us to make more than 10,000 per hour. EPP was very helpful, we were kept informed all the way through. They were always responsive, and they let me know how things were going. Nothing was too much trouble and they were nice to deal with, I was delighted. I'd happily use them again and recommend them."
"We're thrilled that White's Bakery is reaping the benefits of the Comas DLV, which is a versatile, reliable,and easy to clean depositor," says Michael Lomas, technical sales manager, EPP. "White's is an outstanding resilient bakery which has overcome serious business challenges and is now using the benefits of automation to develop and grow, whilst maintaining high standards of product."