Viena Bakery in Spain has invested in a Beor water scoring solution to deliver enhanced product quality and reduce labour costs.
The bakery (in Sabadell, Barcelona) produces a range of products to sell through its own shops as well as for its own chain of upmarket bistro style restaurants.  The semi-automatic water scoring solution allows bakers to achieve the distinctive cut on every bun with pressurised water – a task which previously required a team of six staff to achieve.
"The bun is one of our hero products, featuring in our signature burger," says Rafael, Viena Bakery. "Ensuring it is perfect every time is very important, and the Beor cutter ensures that we meet this high-quality threshold. The labour-saving has also been very important at a time when labour costs are rising and with the challenges of recruiting the right staff. The equipment is very easy to operate and staff enjoy using it – it is so much easier."
By investing in the cutter, the bakery has not only seen an immediate improvement in product consistency thanks to the accuracy of the cutter but also reduced the team size by five staff, allowing them to concentrate on other tasks.  The automated system completes the cutting of a full rack of products in less than two minutes, supervised by one operator who is responsible for loading and unloading the racks.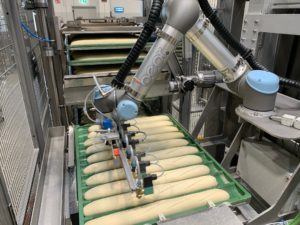 "The Beor solution is an excellent example of using automation to deliver a high-quality finish to a product," says Steve Merritt, managing director, EPP. "Viena's transition from cutting by hand to a semi-automated scoring solution not only ensures enhanced consistency for one of its most iconic products, but it is also a huge timesaver, which amounts to considerable cost savings."
The Beor solution is a semi-autonomous water scorer/cutter for fermented dough. It can make a variety of cut types and be adapted to suit a wide variety of products. The solution is made entirely of AISI 304 stainless steel and equipped with Wifi, Ethernet and Technology 4.0. connectivity. The system is also proven to work well with gluten free products.
Viena has more than 50 restaurants in Catalonia and Andorra, offering a wide variety of popular European foods adapted to suit the needs and habits of its customers. Its artisan bread rolls are made with flour from traditional mills with more than three generations behind them and is combined to form a mix made from at least five varieties of wheat.
EPP is the exclusive distributor for Beor in the UK and Ireland.